Author:
admin
When: 7:30 pm
Where: Agudath Israel Congregation
1400 Coldrey Avenue, Ottawa, ON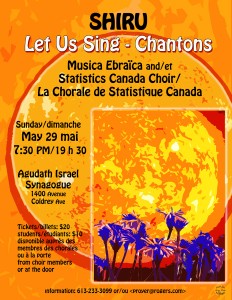 For the first time, two choirs of Ottawa singers join forces to sing the music of Jewish life, past and present.  Along with a delightful range of yiddush and hebrew well known to our audiences, Musica Ebraica and the choir of Statistics Canada will present four recently discovered pieces of liturgical music by one of the brightest lights of Italy in the 1500's – Salomone Rossi.  While creating music for the court of Mantua, and inventing the sonatina form for violin music, Rossi, who proudly signed his works Salomone Rossi, ebreo, wrote complete sets of liturgical music for choirs to perform at Sabbath and high holiday festivals. In addition, the Stats Can Choir will present movements of a very challenging piece by the late Toronto composer, Srul Irving Glick.  This promises to be an evening of rare enjoyment.
Tickets: 20$ at the door