Month: March 2015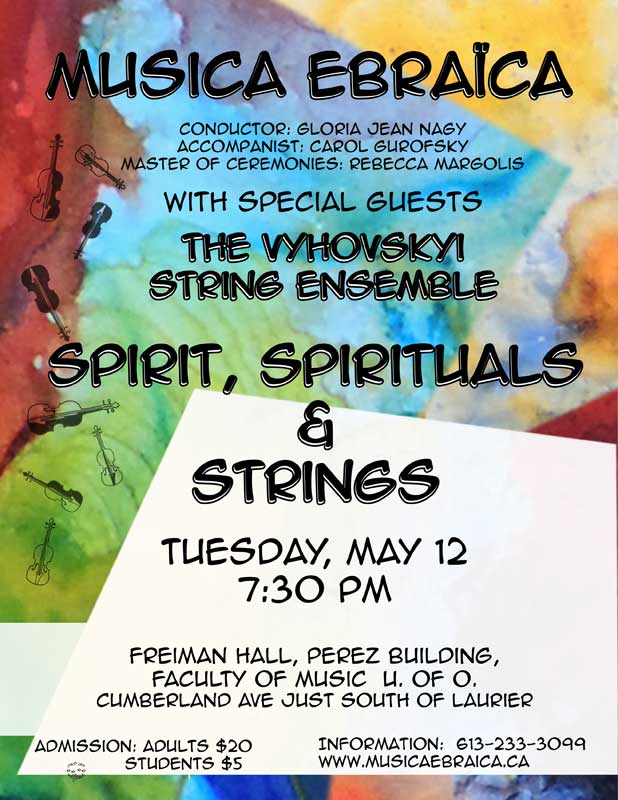 Musica Ebraica brings its audience something a different with our Spring concert.
On Tuesday, May 12th,  at 7:30 pm, Freiman Hall, inside the Perez Building at the University of Ottawa, will be the site for new Yiddish music written in the last 20 years, new Israeli music and old time spirituals based on Torah tales.
Beginning with a lively hora and an ethereal rendering of "Love, Smoke, Dreams", both new Israeli melodies, we turn to prayers of gratitude and celebration.  Toes will tap to Spirituals written to pass on the stories of Daniel, Noah, Ezekiel and more and we will present some Yiddish tunes from the New York stage and others just recently composed.  Yiddish is certainly a living language!
The Vhovskyi Strings will provide a beautiful musical interlude. This group of young violinists is becoming well known in Ottawa music circles and Musica Ebraica is delighted to share the concert with them.
Professor Rebecca Margolis of the University of Ottawa Department of Modern Languages specializing in Yiddish Language will act as the Emcee.
Mark your calendars for a special evening of music and Jewish song.
Tickets are $20/$5 for students and will be available at the door, from all Musica Ebraica members or by calling 613-233-3099.  The Perez Building is located at 50 University Avenue. However, there is an entrance on Cumberland,  just south of Laurier.  Paid parking is available.
Photos courtesy of Geof Burbidge