Prayer and Celebration
Liturgical Music From Around the World
Tuesday June 4, 2013, 7:30 PM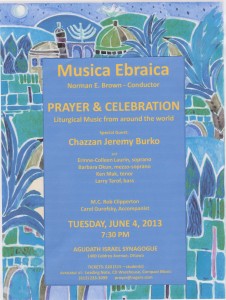 Prayer and Celebration –Liturgical Music From Around the World.
The program will consist of innovative choral settings of the synagogue liturgy arranged by international composers. Chazzan Jeremy Burko will delight all with his rich tenor voice and spiritual artistry. Other guests include soprano Erinne-Colleen Laurin, mezzo-soprano Barbara Okun, tenor Ken Mak, and bass Larry Tarof. Highlights will be Joshua, a cantata by Modest Mussorgsky in Russian as well as a world-premiere composition by Ottawa's own Leo Lightstone.
A 'must-hear-experience' for lovers of good choral music, Chaazanut, and the Jewish liturgical soundscape !
The concert will take place on Tuesday, June 4, 2013 at 7:30 pm at Agudath Israel Synagogue 1400 Coldrey Avenue, Ottawa. Tickets : general admission $20 or $15 for students. Available at Leading Note, CD Warehouse, Compact Music or at the door. For information or tickets please call 613-233-3099 or email proyer@rogers.com.