From Rossi to Glick Tuesday November 20, 2012 7:30 pm Tabaret Hall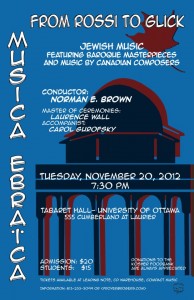 Musica Ebraica  has been bringing the sounds of Jewish music in its many diverse forms to Ottawa audiences for over a decade. The chamber choir was founded in 2001 by a small group of people who felt that the beauty of Jewish Choral Music should be shared with the larger community. Its repertoire consists of a very eclectic mix of music ranging from Renaissance Italian to modern American/Canadian and from European Yiddish to Mediterranean Ladino as well as Israeli compositions.
As the singers explore the music, they learn as well about the cultures and settings that influence the sounds they sing. The choir members come from a variety of religious and ethnic backgrounds and are united by their love of singing and the pleasure that Jewish music brings to both themselves and listeners. Two major concerts and many smaller ones are presented each season.
Musica Ebraica will present an evening of beautiful Jewish choral music on Tuesday, November 20th at 7:30 pm at the University of Ottawa's Tabaret Hall (555 Cumberland Ave. at the corner of Laurier in Ottawa).  The choir will sing masterpieces  from the Baroque era including music by Solomone Rossi, George Frederic Handel, and G. Palestrina as well as music by Canadian composers  Srul Irving Glick, Healy Willan,  Stephen Glass, Leonard Enns and Brian Bessner.  As well, long time choir accompanist Carol Gurofsky will perform two solo pieces on piano. It promises to be an evening of excellent and varied musical sounds.
This will be the inaugural concert under the baton of its new conductor Norman E. Brown.  Norman is a well known singer, orchestral musician and conductor in Ottawa, Toronto and throughout international music circles, and Musica Ebraica is delighted to be joining forces with him.
Laurence Wall, well known broadcaster on CBC radio and man about town, is the emcee for the evening.
Tickets are $20 ($15 for students) and are available at the Leading Note, Compact Music and CD warehouse, from Musica Ebraica members, or by calling 613- 233-3099 or emailing pmroyer@gmail.com.