Musica Ebraïca presents Mavins of the Musical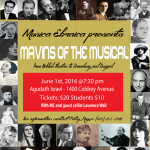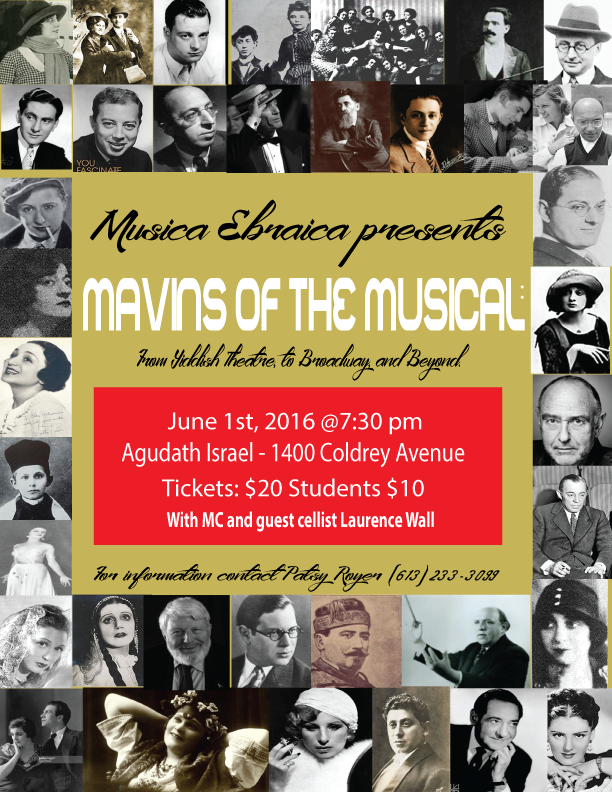 Musica Ebraïca Gives Broadway a Run for Its Gelt
In June, Ottawa's preeminent mixed-voice Jewish choir, Musica Ebraica, explores the unique role of Jewish composers and lyricists in the creation of the Broadway musical in a concert called Mavins of the Musical: From Yiddish Theatre to Broadway.
We're talking about the Gershwin brothers, Oscar Hammerstein, Richard Rogers, Lorenz Hart, Kurt Weill, Leonard Bernstein, Stephen Sondheim, John Kander and Fred Ebb (Cabaret, Chicago), Jerome Kern, Lorenz Hart, Alan Lerner and Frederick Loewe, not to mention Irving Berlin. Between them, they wrote the songs for practically all the great musicals, leading to the assertion that the musical is almost an exclusively Jewish creation. Indeed, could it not be said that the Jews actually 'invented' Broadway?
In answer, the choir begins with a look at the vibrant musical theatre culture that was popular in the shtetls and cities of Russia and Eastern Europe, beginning with works by Abraham Goldfaden, the "father of modern Yiddish theater". Goldfaden wrote some 40 Yiddish plays between 1869 and 1908 as well as hundreds of songs, including, most famously, "Rozhinkes Mit Mandlen" (Raisins and Almonds).
This concert will continue with favourites such as Dona Dona, A Yiddishe Mommeh, Alexander's Ragtime Band, and Beltz, a poignant lament to old world life. And who doesn't remember the Andrews Sisters' 1930's swing tune Bei Mir Bist Tu Shein and The Barry Sisters' Sheyn Vi Di Levone ? Other selections will include Fiddler on the Roof excerpts and a Les Miz medley.
Musica Ebraica's up-coming concert will be fun and entertaining as well as educational. Look for some fantastic solos, featuring soprano Mirren Lithwick and tenor Evan Weiner, guest musicians and a special appearance as Master of Ceremonies by Laurence Wall. Okay, the secret is out: Laurence is bringing (and playing) his cello!
The concert will take place on Weds, June 1 , 7:30 pm (note the new time), at Agudath Israel 1400 Coldrey Avenue (ample parking). Tickets are $20, students $10.
For information, please contact Patsy Royer @ 613 233-3099